1-2-3 Fertility Series of Organic Fertilisers (Certified Organic)
The 1-2-3 Fertility Series products provide both plant and soil-life nutritional and system catalytic energy.  The three individual products in this series, F1, F2 and F3, are mainly derived from plant seeds, i.e., nature's store of future life and energy.
The 1-2-3 Fertility Series stimulate plant beneficial soil microbial activity.  The fermented, all bio-available food sources activate the soil microbial communities that enhance plant available nutrition.
The high level of catalytic energy contained in the fertility products provides microorganisms with the additional energy required to help fix and overcome soil chemical imbalances and facilitates the conversion of nitrates into amino acids and proper proteins.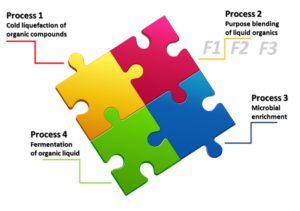 The 1-2-3 Fertility Series aims to help:
Stimulate microbial metabolic activity and extracellular polymeric substance production.
Increase chelation of plant available minerals.
Protect and promote healthy root growth.
Stimulate balanced top growth.
Improve soil structure.
Build levels of soil organic carbon.
Decrease fertiliser and chemical input needs.
35% Organic matter (Derived from Sugarcane, Grains, Legumes, Oilseeds and Fish Hydrolysate)
Microbial inoculum (Proteolytic, cellulolytic, and amylolytic process bacteria and fungi, and their metabolic products, including enzymes)
The active microbial population and energy-rich carbon food sources combination enhance microbially mediated plant metabolite and mineral availability.
The formulation of the three Fertility products, comprising the EcoDelta 1-2-3 Fertility Series, varies in their carbohydrate structure, protein and triglyceride content to better match seasonal variation in microbial and plant nutritional needs.
The products are intended for soil application and should only be used as directed.
F1 – Fertility-One – ideally applied in Spring,
F2 – Fertility-Two – meant for Summer and
F3 – Fertility-Three – best for Autumn
Short-term storage only, in a cool area out of direct sunlight.  In event of container swelling, release the air by undoing the cap.  Re-tighten cap again after gas release.  Do not premix or store in diluted form.  Use product within 8 hours of diluting.
Shake well before use.  Premix 20L of Fertility product (F1, F2 or F3) per hectare (/ha) with at least 100 litre of water and inject into irrigation system once every two weeks.
On intent of mixing product with other products, first jar test a mixture of products for 24 hours to ascertain compatibility.
Elemental Analysis: (on dry mass basis)